Cleveland's own Machine Gun Kelly took a break from his extensive  "Road Trippin Tour" to spend some time at Spider Studios with producer/mixer Ben Schigel. "I've recorded with Ben since I was 20 years old, since before I even got a record deal. It's the type of vibe where you can smoke a joint to the face, take a couple shots, lay down some ideas, and leave with a classic."
Earlier this year Ben Schigel did post production for Machine Gun Kelly's "General Admission" due out sometime this fall.
For further information about Machine Gun Kelly head to www.machinegunkelly.com
Check out some of Mchine Gun Kelly's past work done at Spider here, here, and here.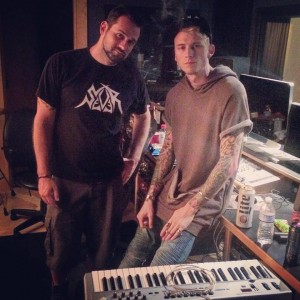 MACHINE GUN KELLY FEELS HOME RECORDING AT SPIDER STUDIOS